Added the new Pillar component, an obvious oversight when looking back. Also changed the Base and Overlay components to the show the shape within the bounds of a hex, as the other tools do. These palettes have grown to the degree where it's not always possible to mentally visualise how they will fall within a hex otherwise.
Further updates to Shamat with the addition of another element and some extra tweaks.
Angle Window feature complements the recently added Angle Door.
The thickness of the Megahex outlines and dots can now be set via a pair of sliders. These values are saved to the map file as well.
The Features Event and Marker have been moved to the Symbols palette, where they logically belong. The Symbols palette now has two pages, like most other palettes here.
A new version of Shamat is out with a lot of new features and interface updates. Here is a list of the major changes:
Decor and Symbols layers.
Printer's Materials (third palette) contains Pure White, Pure Blacks, and Grey scales by 10% for drawing monochrome maps.
Added Features - Hex Border, Room Walls, Room Corners.
New Map option in menu buttons. (This is now the first menu button, so if you are reflexively used to hitting Load Map, this button is now where that one was. You will get an alert prompt before starting a new map, however, so your work won't be lost.)
Prefs button opens the Preferences dialog; here you can set the default values for future map projects.
Line Room lets you draw rectangular room outlines (Vertical grain only, rectangle snaps to closest "legal" hexes).
Solid Room lets you draw filled rectangular rooms, with the same restrictions as Line Room.
Icons for the Rectangle and Area tool have been changed to more accurately portray their function, and to avoid confusion with the new Room tools.
Clear Map and Clear All moved to second row of control buttons.
Hover tooltips for Hotkeys.
Political Regions: A Primer
Mar 4, 2023
Political Regions: A Primer

I wrote this guide a couple of years ago for GMs to assist in worldbuilding on Cidri. I shared it with the SJG forum community and received positive feedback, but realised that I hadn't shared it beyond that. So here it is, a general overview of the classic kinds of regional divisions one finds in a Kingdom or similar political state, plus some other types of regions and governance structures. Hope you find it useful!
New Quick Quest
Dec 18, 2022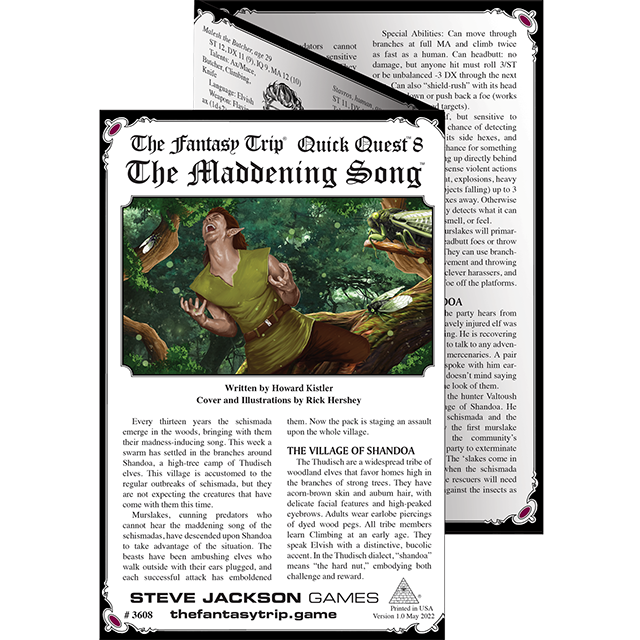 Quick Quest 8:
The Maddening Song
Rescue a community of tree-dwelling elves immersed a swarm of madness-inducing insects from a pack of unusual predators.
buy on Warehouse 23
Hexagram #9 and more on Kickstarter
Jan 26, 2022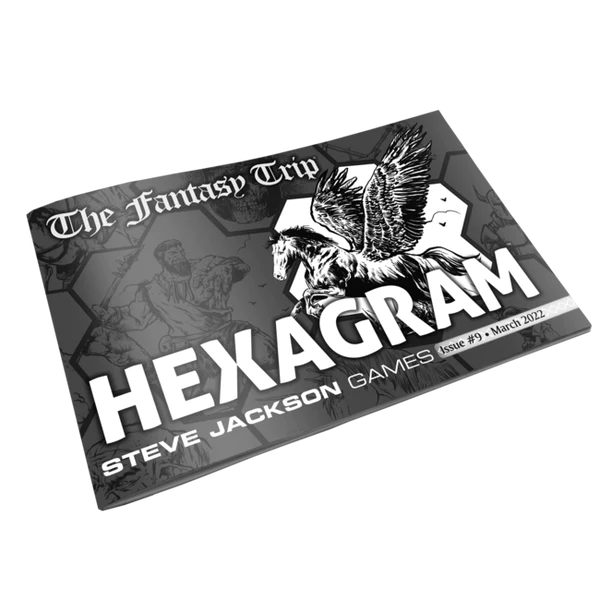 Hexagram #9
The next issue of
Hexagram
, the official zine of
The Fantasy Trip
, is funding on Kickstarter. Also included in the campaign is the latest
Quick Quest
(and the opportunity to unlock a second one), plus two new playmats! Check it out on
Kickstarter
.
New Titles in Warehouse 23
Nov 6, 2021
A wealth of new TFT titles have landed at Warehouse 23 today, coinciding with the first day of Fnordcon 2021. Included are these offerings with material from us: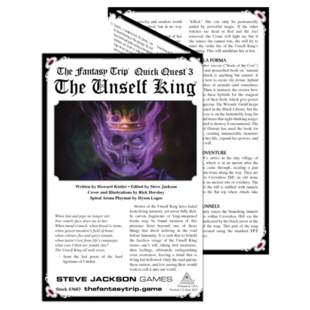 Quick Quest 3: The Unself King
A quest to prevent the three Deathless Midwives from bringing an appalling entity known as the Unself King into being. Sanity and life hang in the balance!
buy on Warehouse 23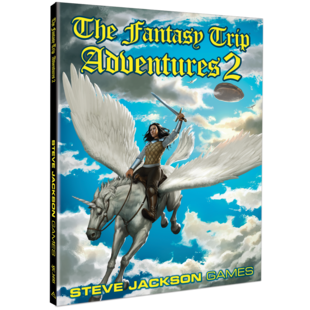 The Fantasy Trip Adventures 2
This book of five full-length adventures includes our contribution,
The Paradise Vault
. This subterranean pleasure palace was build by a group of mages, but recently it has fallen silent. As the players descend into the depths, they will encounter unexpected wonders and horrors.
buy on Warehouse 23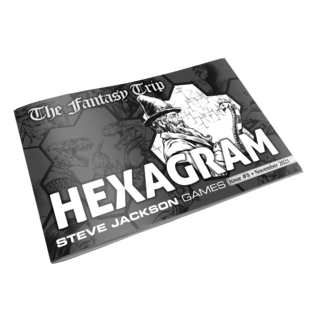 Hexagram #8
The newest issue of Hexagram once again is full of supplementary materials for your TFT adventuring. Included is our article on
Familiars
in TFT, and the first installment of hopefully a series of pieces adapting reputedly real items from legend,
Historical Artifacts: The Brass Fly
.
buy on Warehouse 23
Thanks to requests for new features, I've overhauled the code and released Shamat 2.0
(Codename: Ultravox)
. Here are the major changes:
New "Thin" components, such as Thin Walls and Thin Doors, allow you to make maps where hexes on both sides are clearly able to be occupied by players.
File handling buttons (Load Map, Save Map, and Save Image) are now moved out of the tool palette and into the menu bar at the top of the application.
There is a new Event map feature that can be used to mark locations on the map where important scenario events occur. It is also suitable as a trap symbol, or other such marker.
I've begun updating the backend code to make some symbology drawing simpler and cleaner. The new components use this code, and I plan to apply it existing components as well where suitable.
Thanks again to everyone who has sent in requests and feedback, and keep them coming!
It's the Juneteenth edition of Shamat, version 1.9 released on the 19th of June. Juneteenth celebrations are gearing up in the park outside my building and here's hoping you are enjoying the day as well. This version of Shamat adds a couple of requested features.

The new Shift Map feature allows you to move the map around on the grid. This is useful if you decide you need to expand the map or add new elements. This feature is available under the newly-renamed Compose tab (previously the Backdrop tab, and the backdrop tools are here as well).

The Save Image feature now includes any backdrop image and onionskinning in the saved image. If you are using a backdrop and don't want it saved as part of the image, simply toggle it off temporarily before saving the image, then turn it back on.

Please report any issues you encounter with this version, and thanks to everyone who sent feedback!
Shamat has been updated with a new selector that gives you more control over the line weights in maps. By using the new (and default) Propotional line weight, hex lines and feature details are now rendered with line weights that are propotional to the current zoom factor. Higher zooms result in the thicker lines. This also allows for exporting highly zoomed maps as high-res images without the line weights being too fine. The other choice, Hairlines, forces all line weights to a single pixel width. Good for web maps and maps with a more light and minimalist feel.
Both the online and downloadable versions are updated with these changes. Maps created in previous versions should continue to work fine.
Quick Quests on Kickstarter
June 1 2021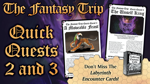 A Kickstarter is running for one week starting June 1st for the release of two new
Quick Quests for The Fantasy Trip
.
We're proud to say that one of releases will be our adventure
The Unself King
.
Hope you enjoy!
More Resources For TFT
Apr 23 2021
A set of four original fantasy language fonts are now available here. All are freely available to use. Visit the new
Fonts
page for details and download links.

Another update of
Shamat
is available both online and in download. This version adds a suite of new tools to support loading a backdrop image in your map file. This is to facilitate manually tracing existing drawings or maps in order to convert them to Shamat format. The update includes an onionskinning feature that makes the map translucent so that you can see the backdrop beneath it. You can control the degree of translucency, as well as the size and positioning of the backdrop image.
As before, please use copies of your existing map files when editing in a new version of Shamat, in case an undiscovered bug causes the maps to become unusable.
A new version of
Shamat
is available both online and in download. This version adds the requested ability to allow for pairs of annotations in each hex. No longer are you limited to a single character in each hex, but now can have a pair of any characters. Each character can have it's own color, too. This should greatly expand the options for those of us who like to mark key adventure locations and items on the map. This version should open existing maps without issue, but use a backup of your maps to test the changes before saving them, just to be on the safe side.
Hexagram #6, Ultrahex Playmat, and Adventures 2 Kickstarter is Live
Nov 17 2020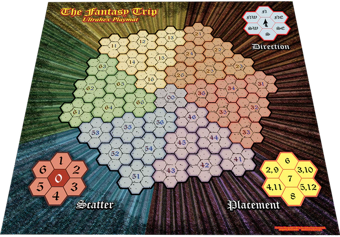 The Ultrahex Playmat
is now funding, alongside
Hexagram #6
(which contains an article on using the playmat). Also available in this campaing is
The Fantasy Trip Adventures 2
, which contains our adventure
The Paradise Vault
. The campaign also includes
Old School Monsters
, a book by Steve Jackson himself. Loads of great stuff for the TFT fan to pick from!
Join the Kickstarter here!
Ultrahex Map coming from Steve Jackson Games
Oct 25 2020
Originally designed in 1998, our ultrahex map for laying out random encounters has gone through the Steve Jackson Games design process and is coming out as an official playmat! The
Kickstarter
for this will be starting soon, and there will be an accompanying article in Hexagram #6 on how to use the map. We are in the process of revising the programmed adventure that the map was first created for as well, and perhaps this will be a future product. Hope you enjoy the map!
Sign up to the Kickstarter here to be notified when it goes live.